This depends on your account type:
Paid account ("Premium")
The notice period is 3 months to the end of your contract term.
If you have not made the termination within the 3-month notice period, your paid account will extend for one more period.
Free account ("Basic")
If you have a free account, you can delete it anytime by yourself (means "terminate").
In order to do this, log into the interface and click in the menu on "Settings" => "Account" => "Delete account" and follow the steps to delete your account.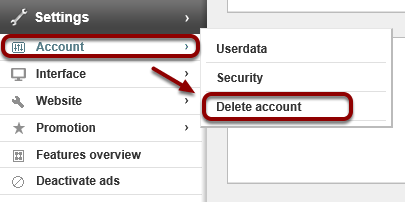 However, please note that your entire website and all files and data will be deleted permanently and irrevocably.